Welcome
Welcome to the web site of the Boys' Brigade National Brass Band Association. We hope you enjoy browsing through our pages.
The aim of the Association is to give you the opportunity to take part in a variety of activities and experience the music, fun and fellowship we offer. Whether you are a member of a BB/GB brass band, marching band or just an individual musician within our organisations, you are welcome to join in. You do not even have to play a brass instrument either! Our national music festival has classes for all types of instruments. Our activities, which generally take place two or three times a year, may include:
Annual national music festivals
Training opportunities
Informal 'get-together' weekends
Concerts and performances around the country
For the moment, we are assessing the future of our Association, but would be delighted to hear from volunteers with ideas for activities that we could undertake.
Why not come and join us? – it's free to join!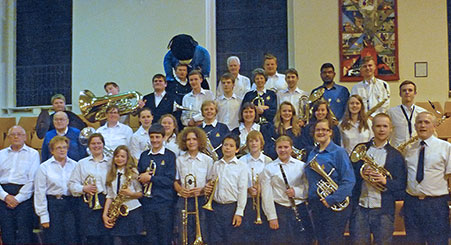 As a member of the Boys' or Girls' Brigade, you and/or your band are welcome to become an Association member (to become involved in the organisation of the Association, help plan its direction and be part of the fellowship this involves) or just to take part in any events we organise – as non-members but part of the wider Brigades' family. For full details, contact our Association Secretary.
To find out more about our history, going back nearly 40 years, click here.
Subscribe to our mailing list here
The Boys' Brigade National Brass Band Association is a part of The Boys' Brigade
A Registered Charity in England & Wales (305969) and Scotland (SC038016).
The BB National Brass Band Assocaition is not responsible for the content of external sites