Training events
Band Training Day 2014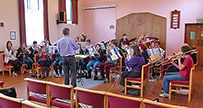 Saturday 8 November, Eastleigh, Hampshire
Around 20 players took part in this day of training under the direction of Chris Davis. A long hard-working day but the results were evident. The band gave an excelent performance of the pieces they had learnt to a small but appreciative group of parents at the end of the day.
Well done to everyone who took part!
Lt Colonel (Ret) Dr Chris Davis OBE, BA(Hons) MMus DMA LRAM, took the group. Chris, a former member of the 2nd Eastleigh BB brass band, served for 34 years in the Royal Marines Band Service, his last 9 years as Principal Director of Music, responsible for the musical direction of many national and state occasions. Since retiring in 2009, he has undertaken freelance conducting and adjudicating (including at the National Brass Band Championships at the Royal Albert Hall in 2010) and spent some time as Associate Conductor of the world famous Brighouse and Rastrick Brass Band. He also recently conducted the London Symphony Orchestra.
Comments from the day included:
"Chris started us off at 9:45 with a lengthy warm up, not just our instruments but the positioning of our mouths, instruments and bodies and how this effects our playing. We also looked at taking in and releasing breath properly. All this sounds very boring but it was done very well and it is suprising how important these little things are. Once we were properly warmed out came the march Star Lake, one of my favourites and a nice change to Slaidburn – we really took this piece to pieces and by the end it sounded like decent march. All this ended with a short but 'sweet' concert for a small but appreciative audience. Chris did a great job and I had a great time – it was well worth the journey."
"I felt that our playing, as individuals and as 'ensembles' improved dramatically as a result of the tuition. If everyone remembers everything taught, we will all improve immeasurably!"
---
National band training weekend 2006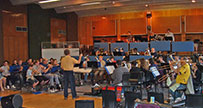 Friday 28 April to Monday 1 May at RAF Uxbridge
Almost 60 members took park in this event held at RAF Uxbridge.
Thanks to the generosity of the Central Band of the RAF, and in particular their bandmaster, Warrant Officer Gil Singleton RAF, we had the use of the whole of the RAF Central Band's complex, which included two large practise rooms (both sound proofed and acoustically excellent - one even includes a complete recording studio!).
Over the weekend, we split into two bands according to ability. Simon Farrenden, Iain McIntyre and David Carter put the bands through their paces, introducing them to a number of new pieces of music purchased especially for the event.
On Monday morning, the two bands performed to each other and it was great to hear the considerable improvement in playing over the weekend - particularly from the younger band.
---
Training day 2005
Saturday 19 March in Chandlers Ford
A training day, for aged 15+ members who wished to learn more about conducting, arranging and teaching. We hope those who were able to attend found it useful and that it will help when they are back working with their bands.

---
National band training weekend 2004

Friday 30th April to Monday 3rd May 2004 at DCAE Cosford (formerly RAF Cosford), near Wolverhampton
(by kind permission of the Royal Air Force)
Over 80 participants from around the UK spent a great three days at Cosford over the early May bank holiday.
Two brass bands were formed and a percussion group. Each band worked on a number of new pieces throughout the weekend, culminating in a superb concert on the Monday morning.
We were fortunate to have the help of Mr John Teague, bandmaster of RAF Cosford's band, who worked hard with the top band on Sunday. Also our thanks to Will Craig, from the Cosford band, who helped the percussion group on Saturday. Iain McIntyre, Simon Farrenden and David Carter also spent time working with the bands. A number of participants also had coaching on conducting and music arranging. On Sunday afternoon (just before the downpour!) an 80-strong massed band marched on the parade square (or car park actually!) giving an impressive (and totally unrehearsed) display!
Saturday evening was spent at Cosford's own ten-pin bowling alley and on Sunday there were sporting activities available to all.
Our thanks to Codsall Methodist Church and Carter's Lane Baptist Church, Halesowen, for accommodating band members overnight and to everyone at DCAE Cosford without whose help the event would not have been possible.
Roll on the next one!
---
National band training weekend 2001
Friday 4th to Monday 6th May 2001 at RAF Cosford, near Wolverhampton
(by kind permission of Gp Capt L J Burrell, BEng, CEng, MRAeS, RAF
This event followed the same format as our first, very successful, 1999 training weekend at RAF Cosford.
This year, almost 120 participants had a great weekend of music making.
Many arrived on Friday evening, 4th May at their host churches in the area and travelled to RAF Cosford, bright and early, on the Saturday morning for breakfast where they joined all those travelling direct.
Two music training bands were formed, according to players' abilities, along with a small group of beginners. There was also a percussionist's group.
Brass instructors, Iain McIntyre, Nick Dunn and Wesley Nicklin put the two bands through their paces throughout the weekend whilst Doncaster bandmaster, Ted Needham, worked hard with the beginners. The percussionists received training from Mark Day and Andy Upton and, on Sunday, were under the watchful eye of Cpl Bugler Andy Cornish, an instructor from the Royal Marines School of Music. Additionally, during the weekend, David Carter and Ian Caldwell ran sessions on arranging music for brass bands. David also took a session on conducting, after which, a few participants were let loose conducting the bands!
On Saturday evening the entire group took over RAF Cosford's ten-pin bowling alley and on Sunday evening, RAF PTI, Sgt Taff Davis, kept swimmers entertained in the base's full size pool. Other sporting activities were available.
On Sunday evening, a 30-strong marching staff band performed some rather 'rusty' formation manoeuvres to the annoyance of those trying to have a game of football in the same gymnasium!!
The weekend culminated in a mini-concert at which each band and the beginner's group performed to each other, followed by the massed bands 'lifting the roof' with Anchors Aweigh!
We are most grateful to Gp Capt L J Burrell, BEng, CEng, MRAeS, RAF, for giving us permission to use the extensive facilities at RAF Cosford, and we were delighted that he and his wife were able to spend time with us on the Saturday. Our thanks also go to Fg Off Chris Skaife for making all the arrangements for our visit.
The weekend was organised and coordinated by David Carter and John McIntyre.
The event was an excellent training opportunity as well as a great weekend of fellowship.
---
Previous courses
Prior to the above events, the Association organised a number of brass band training courses in the 1980s and 1990s, mostly at the BB's headquarters at Felden Lodge. In 1999 an new long-weekend course was held at RAF Cosford with over 150 participants.