National Brass Band CD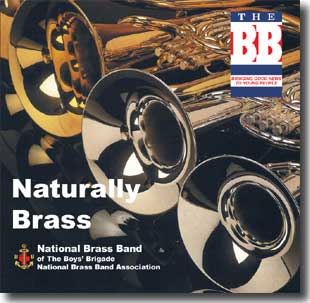 Almost 600 copies already sold!
How we did it (photo gallery)!
Click here for a printable CD poster
---
All about our CD
Rehearsals started on Saturday 22nd September 2001 in Derby for this Association project.
The 41-strong band was formed by volunteers from amongst the Association's member bands throughout the UK. With rehearsals during September and October, the band recorded the CD in Doncaster on Saturday 3rd and Sunday 4th November 2001.
The band worked very hard over the two recording days and the resulting sound was very impressive. The programme features a wide variety of music – something for everyone – which certainly shows off the full versatility of the band.
---
How to own a copy
The CD costs £10 now just £6 (including postage and packing).
Please send your order, with a cheque (payable to BB National Brass Band Association), to:
BB National Brass Band Association, 20 Dartington Road, Bishopstoke, Eastleigh, SO50 6NR.

---
Track listing

Click those in blue below for a taster of music!
1 Concert Tune
2 Be Still for the presence of the Lord
3 Slaidburn
4 When you Believe
5 The Happy Bandleader
6 Highland Cathedral
7 Cavalry of the Steppes
8 Jesus is Lord
9 Trumpet Voluntary
10 High Spirits
11 Theme from Anna Magdelana
12 Lichfield
13 Soldier's Song
14 Anchors Aweigh
15 Tochter Zion
16 Theme from Beauty and the Beast
17 Antonin's New World
18 Evening Song
19 True & Trusty
---
Band members
Conductors
David Carter
Iain McIntyre

Cornets
Pamela Adams
David Greatorex
Steven Hayhurst
Tim Hazeldine
Martin Herd
Daniel Johnson
Kim Larcombe
Heather McBain
Iain McIntyre
Thomas Meade
Mark Myers
Hannah Procter
Irene Smale

Flugel Horns
Angela Norris
Gemma Ogilvie

Horns
Jason Elkin
Yvonne Hayhurst
Pamela Ann Morris
Alex Ogilvie
Ian Parrish
Kevin Pilkington
Robert Winn

Baritones
Dawn Ogilvie
Brian Roberts

Trombones
Jennifer Aitken
Lee Barrass
Peter Hawkes
Peter Holt

Euphoniums
Stephen Greatorex
Bob Hensford
Steven Norris
Sîan Procter
Ian Roberts

Basses
Roland Bottomley
Shaun Savin
Geoff Smale
Andy Spreadbury

Percussion
Mark Day
Matthew Larcombe
Harry Parrish
Andrew Upton
---
Bands represented on this recording
Accrington BB Brass Band
Derby BB/GB Brass Band
2nd Eastleigh BB/GB Brass Band
118th Glasgow BB Brass Band
The London Central BB/GB Brass Band
Priory (7th Doncaster) BB Brass Band
The Stedfast Band (1st Halesowen BB & 53rd Birmingham GB)
---
Acknowledgements
The Association would like to thank the following for their considerable help and generosity which has significantly contributed to making this CD:

Kevin Edwards (Recording engineer)
John McIntyre & David Carter (CD project administration)
Cantley Methodist Church (recording weekend band accommodation)
Mackworth URC, Derby & Carter's Lane Baptist Church, Halesowen (rehearsal accommodation)
William Appleby Music Centre, Doncaster (loan of timpani)
All the bandmasters and members of the bands involved for their hard work and wholehearted support.
Recorded at Hall Cross School, Doncaster, 3rd & 4th November 2001.