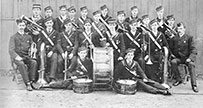 A long history of music in the BB
The Boys' Brigade (BB) is a long established national voluntary youth organisation, founded in 1883 and registered charity with a firm christian base. It was the world's first uniformed national voluntary youth organisation It is committed to providing a balanced programme of adventure, community, interest, physical and spiritual activities for boys and young men, in a caring and friendly environment, through dedicated and trained leaders.
The organisation has always had a strong musical tradition. This has mainly been in marching bands but there have always been some full brass bands (such as the original 1st Glagow Company brass band pictured here in the 1880s). In the late 1970s contact was made between brass bands in BB companies throughout the UK in order to establish a link between these bands. As a result an annual National Brass Band Contest was started in 1980 and cooperation between the bands grew.